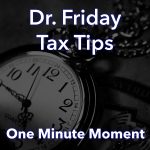 Dr. Friday 0:00
Good day. I'm Dr. Friday president of Dr. Friday's tax and financial firm. To get more info go to www.drfriday.com. This is a one-minute moment.
Dr. Friday 0:12
We are ready to file, and we are working on tax returns. If you need help doing your taxes for 2020 you need to give us a call at 615-367-0819. It's time to start getting someone else to give you a second opinion. Are you getting all your tax deductions? Are you able to file and have you received or taken what you need to do in income? Sometimes people think, "Oh, I've got this all covered. I'm just gonna throw these numbers in a tax return that software is going to do everything else for me." It doesn't always work that way, especially if you've got rental properties, maybe sold some stock, or done something else. If you need help setting up an appointment at Dr. friday.com.
Announcer 0:52
You can catch the Dr. Friday call-in show live every Saturday afternoon from 2 pm to 3 pm right here on 99.7 WTN.