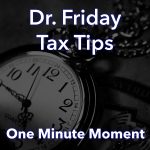 Dr. Friday 0:00
Good day. I'm Dr. Friday, President of Dr. Friday's Tax and Financial firm. To get more info go to www.drfriday.com. This is a one-minute moment.
Dr. Friday 0:12
The IRS has put out a tax scam. Don't be a victim of ghost tax return preparers. That's right. My opinion is that any preparer that prepares a tax return that does not sign it does not have a PTIN, does not have an address or an EIN number on that tax return, they are not, and yet you're paying them. Those are not legit tax preparers. Hey, if your brother is preparing your tax return, it's considered self-employed that's within the family. But if you're paying somebody that, in my opinion, is ghosty, meaning they're preparing it, but they're not signing it. You need to make sure someone's going to stand behind that work. Go to drfriday.com. Set up your tax appointment today.
Announcer 0:51
You can catch the Dr. Friday call-in show live every Saturday afternoon from 2 pm to 3 pm on 99.7 WTN.