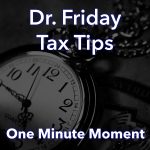 Dr. Friday 0:00
Good day. I'm Dr. Friday, President of Dr. Friday's Tax and Financial firm. To get more info go to www.drfriday.com. This is a one-minute moment.
Dr. Friday 0:12
How many of you may have received a letter in the mail? I love to refer to them as "love letters" because, you know, they totally appreciate us I'm sure. That letter might ask you to prove your identity. Identity theft is a huge issue within the IRS. They are working very hard to try to protect our identities which is not an easy thing when you consider how many times we hear about something being hacked. But they are now sending out large numbers of people to verify your identity. Do not ignore this letter. They will hold up all tax returns, all refunds, and they will not post that tax return, and it can be considered late. Call us if you need help at 615-367-0819.
Announcer 0:51
You can catch the Dr. Friday call-in show live every Saturday afternoon from 2 pm to 3 pm on 99.7 WTN.