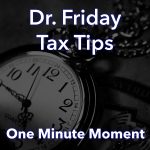 Dr. Friday 0:00
Good day. I'm Dr. Friday, President of Dr. Friday's Tax and Financial firm. To get more info go to www.drfriday.com. This is a one-minute moment.
Dr. Friday 0:12
And today, March 15th is a big day for business owners, 1065, 1120-S. If you are an individual that files a return on those forms, you need to make sure that you have filed an extension. Today you either have filed a tax return, or you need to have an extension. Otherwise, the penalty is $300 per shareholder per month, up to a maximum number of how many shareholders times 300 times 12. So that can be very, very expensive. And the IRS is not always open to waiving penalties because you fail to file a return. Call us if you need help with this at 615-367-0819.
Announcer 0:51
You can catch the Dr. Friday call-in show live every Saturday afternoon from 2 pm to 3 pm on 99.7 WTN.