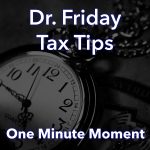 Dr. Friday 0:00
Good day. I'm Dr. Friday, President of Dr. Friday's Tax and Financial firm. To get more info go to www.drfriday.com. This is a one-minute moment.
Dr. Friday 0:12
If you're thinking about itemizing, do remember that we do have a $10,000 cap on what we refer to as the salt tax, which is state and income or sales tax, which is what we have property tax and remember under property taxes, all properties that you own that you pay tax on even if they are not rental properties, because that would go on a different schedule, if you have land and things that would go under there. And so if that all adds up to more than $10,000, You're only going to be able to claim the $10,000. That really hurts people that live out of state like California. If you need help, call 615-367-0819.
Announcer 0:51
You can catch the Dr. Friday call-in show live every Saturday afternoon from 2 pm to 3 pm on 99.7 WTN.