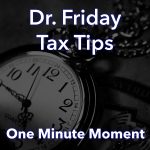 Dr. Friday 0:00
Good day. I'm Dr. Friday, President of Dr. Friday's Tax and Financial firm. To get more info go to www.drfriday.com. This is a one-minute moment.
Dr. Friday 0:12
Business owners, remember, we still have what's called a section 179 deduction of property that has been placed in service in that year. That is important. That means if some people go out on December 15 to buy a piece of equipment, or it wasn't delivered until January 1, you cannot claim that piece of equipment until it is working, not when you purchased it, but assuming you purchased it before December 31. You can take up to a million dollars worth of equipment if your overall threshold is under 2 million to 2.5 million. So we have a big window. Call me at 615-367-0819.
Announcer 0:51
You can catch the Dr. Friday call-in show live every Saturday afternoon from 2 pm to 3 pm on 99.7 WTN.