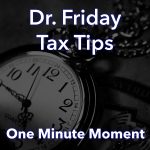 Dr. Friday 0:00
Good day. I'm Dr. Friday, President of Dr. Friday's Tax and Financial firm. To get more info go to www.drfriday.com. This is a one-minute moment.
Dr. Friday 0:12
Due diligence for tax preparers. If you're looking to hire a tax preparer, you want somebody that is going to A, stand behind the work that they do. B, understand how taxes are prepared. C, hold you accountable for some of the information that's been provided. Obviously, we can't just pull it out of thin air, so you need to be very organized and make sure that you have someone not just during tax season but throughout the year that can help you with tax issues that might arise if you're looking for someone like that. Hello, I'm here, Dr. Friday. Dr. Friday's tax and financial firm at 615-367-0819. I would love to talk to you.
Announcer 0:51
You can catch the Dr. Friday call-in show live every Saturday afternoon from 2 pm to 3 pm on 99.7 WTN.