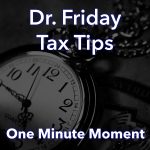 Dr. Friday 0:00
Good day. I'm Dr. Friday, President of Dr. Friday's Tax and Financial firm. To get more info go to www.drfriday.com. This is a one-minute moment.
Dr. Friday 0:12
I am an enrolled agent licensed by the Internal Revenue Service to do taxes and representation. I'm kind of like Superwoman between you and the IRS. I do not work for the IRS. I really work for you. But you need that person sometimes because the IRS doesn't always explain exactly what they want. Sometimes they'll send letters saying, "We've just changed your tax return," and you're sitting there going, "Oh my gosh, oh my gosh, what did I do wrong?" And maybe you did nothing wrong. So if you need help, explaining the IRS getting things done, or just getting, you know, some communication started, that's what we're great at. We can help you do that. 615-367-0819 or drfriday.com.
Announcer 0:51
You can catch the Dr. Friday call-in show live every Saturday afternoon from 2 pm to 3 pm on 99.7 WTN.