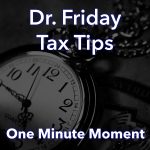 Dr. Friday 0:00
Good day. I'm Dr. Friday, president of Dr. Friday Tax and Financial Firm. To get more info, go to www.drfriday.com. This is a one minute moment.
Classifying your employer versus contractor has been a conversation, goodness since I probably started my practice 20 plus years ago. And it comes down to this: it's been defined a lot cleaner than it was 20 years ago, as far as I'm concerned. If you're able to tell the person when to arrive when to leave, you provide the tools and the job is something that is something that requires them every single day of the week to do or at least five days a week, then that is an employee. If the person can say no, I don't want to do this one, but I might do that one. I bring my own tools.? That's a contractor.
If you have questions on this you, need to call me at 615-367-0819.
Announcer 0:52
You can catch the Dr. Friday Call-In Show live every Saturday afternoon from 2 pm to 3 pm right here on 99.7 WTN.