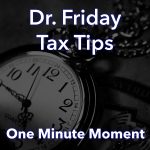 Dr. Friday 0:00
Good day. I'm Dr. Friday, President of Dr. Friday's Tax and Financial firm. To get more info go to www.drfriday.com. This is a one-minute moment.
Dr. Friday 0:12
If you're an entrepreneur, I need to make sure that you have looked at your TNTAP and that you have filed your business license. It is due now to pretty much get it done. And then also go to the Tennessee Secretary of State to file that annual report. Nobody wants to pay an extra $70 to get a tax clearance from the state. This is a pain in the derriere, people, so let's go ahead and do it right. This year, we're gonna file our business licenses on time. Our annual reports are on time; get them filed today. You can do both online with a credit card or direct debit. If you need help with that, you can call us at 615-367-0819.
Announcer 0:51
You can catch the Dr. Friday call-in show live every Saturday afternoon from 2 pm to 3 pm on 99.7 WTN.