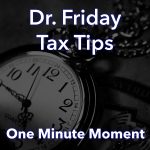 Dr. Friday 0:00
Good day. I'm Dr. Friday, President of Dr. Friday's Tax and Financial firm. To get more info go to www.drfriday.com. This is a one-minute moment.
Dr. Friday 0:12
The fastest way for you to get your tax refund is e-filing. It's that simple. Many people are sitting there going, "Well, I'd rather mail in my returns." The problem with that is, is that the IRS is still sitting on millions of 2020 tax returns. So we figure out how long it's going to take for you to see your 2020 ones mailing in returns is going to delay the system if that's what you want to do, you probably will successfully get that done. But if you're really looking for your refund, the fastest and most efficient way, put in your bank account number, put in your routing number, and then e-file that return, and then you'll get your money in a few days.
Announcer 0:51
You can catch the Dr. Friday call-in show live every Saturday afternoon from 2 pm to 3 pm right here on 99.7 WTN.