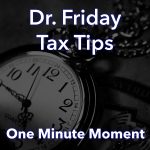 Dr. Friday 0:00
Good day. I'm Dr. Friday, President of Dr. Friday's Tax and Financial firm. To get more info go to www.drfriday.com. This is a one-minute moment.
Dr. Friday 0:12
Employee retention credit. I've talked about this for the last couple of years, it has to do with employers that had employees that worked through the pandemic actually worked 2020 and 2021. And if you had a loss of income, or if your business was closed, you could qualify for up to $5,000 per employee during this time, that's quite a bit of money in your pocket. And that could help a small business owner survive a little bit longer. So if you need help, or if you haven't filed and you're like, "Oh, wait, I don't know I could do this." This is something that's still on the table, and we can help you get that money in your pocket. Give us a call today.
Announcer 0:51
You can catch the Dr. Friday call-in show live every Saturday afternoon from 2 pm to 3 pm right here on 99.7 WTN.