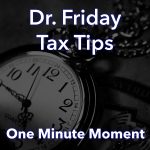 Dr. Friday 0:00
Good day. I'm Dr. Friday, President of Dr. Friday's Tax and Financial firm. To get more info go to www.drfriday.com. This is a one-minute moment.
Dr. Friday 0:12
Charitable contributions are on the table. Remember, this has to be a cash contribution and you can have 300 for a single 600 for a married. The reason I keep hitting this guy is that a lot of people come into my office and they're saying, "Yes, I gave money to Goodwill. Yes, I gave money to the Angel Tree." And we all know that most of the cases are not money. It's clothing. Are you shopping for a child? Those are not cash contributions. If you went and tied that to your church or you gave cash to the Angel Tree, which is done all the time, that's perfect. I just want to make sure that if you get questioned by the IRS, you've got cash receipts, not clothing receipts.
Announcer 0:51
You can catch the Dr. Friday call-in show live every Saturday afternoon from 2 pm to 3 pm right here on 99.7 WTN.