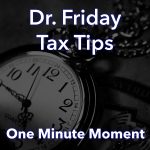 Dr. Friday 0:00
Good day. I'm Dr. Friday, President of Dr. Friday's Tax and Financial firm. To get more info go to www.drfriday.com. This is a one-minute moment.
Dr. Friday 0:12
I'm an enrolled agent licensed by the Internal Revenue Service to do taxes and representation. That's all I do. I've been doing this for 20 plus years here in the Brentwood area. I am local to my listeners. So that means when you hear me on the radio, you can physically come down to my office and we can talk. So if you need help dealing with the IRS, if you need help trying to get back on track with the IRS, or maybe you just need a simple payment plan and you're not able to do it yourself. You can give us a call. We'll be more than glad to have one of our experts help you get back on track. That's what we do. It's what we've been doing for 20 plus years and I'm here to help you get straight with the IRS.
Announcer 0:51
You can catch the Dr. Friday call-in show live every Saturday afternoon from 2 pm to 3 pm right here on 99.7 WTN.