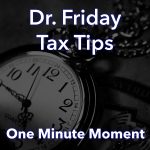 Dr. Friday 0:00
Good day. I'm Dr. Friday, President of Dr. Friday's Tax and Financial firm. To get more info go to www.drfriday.com. This is a one-minute moment.
Dr. Friday 0:12
If you are the president of an 1120 Corporation nonprofit, I would say now is the time if you have not filed those taxes; you should probably get your extension, and it's due tomorrow. So you might as well go ahead and get a headstart. I'm filing those extensions. I know I'm always pushing extensions, but it's a way to save tax penalties. And if right now you can't file tax returns, be that a business or a person, and you fit into that criteria. Filing that extension gives us that little extra time to get together the tax records to go through and have my accountants or bookkeepers put together the information so we can give you a perfect tax return and save you tax money.
Announcer 0:51
You can catch the Dr. Friday call-in show live every Saturday afternoon from 2 pm to 3 pm on 99.7 WTN.