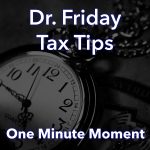 Dr. Friday 0:00
Good day. I'm Dr. Friday, President of Dr. Friday's Tax and Financial firm. To get more info go to www.drfriday.com. This is a one-minute moment.
Dr. Friday 0:13
If you can't find your tax records at this point, you can go to irs.gov and pull up your transcripts. It's a really cool little site, and it gives you the ability to pull up copies of W2's, 1099, and mortgage statements. Also will show you if you have any open balances that you may or may not know of. Also, you can set up a payment plan on this, or you can figure out where and what you need to do to be in compliance with the IRS. It's a wonderful tool. Again irs.gov. And then, you can sign on looking for your transcripts. This would be a great way for you to start doing your taxes correctly.
Announcer 0:51
You can catch the Dr. Friday call-in show live every Saturday afternoon from 2 pm to 3 pm on 99.7 WTN.