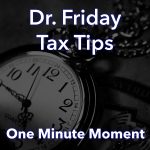 Dr. Friday 0:00
Good day. I'm Dr. Friday, President of Dr. Friday's Tax and Financial firm. To get more info go to www.drfriday.com. This is a one-minute moment.
Dr. Friday 0:13
And we are trying to review information on what should people be doing in the year 2022. We're here. If you owe taxes and 2021, we need to make adjustments. If you're thinking about doing a conversion, quitting a job, or taking other money out of retirement accounts, all of these different things will add up to how will affect your taxes. Preparing for that will help you understand how much money it costs, and keeping you in the 12% or the 22% tax bracket is what we're very good at. And if you have a financial planner, let's get together with all of them so we can try to find ways to save you tax dollars.
Announcer 0:51
You can catch the Dr. Friday call-in show live every Saturday afternoon from 2 pm to 3 pm on 99.7 WTN.