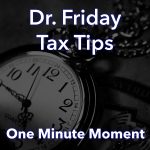 Dr. Friday 0:00
Good day. I'm Dr. Friday, President of Dr. Friday's Tax and Financial firm. To get more info go to www.drfriday.com. This is a one-minute moment.
Dr. Friday 0:12
We are almost at the end of the tax season for 2021. And we need to think. What can I do not have to pay the extra money, but I don't have all my tax forms; you need to file an extension. And if you think you're going to owe, you need to send in some money. Either way, filing that extension will delay penalties and give you more time to file the tax forms. Again, it doesn't stop the tax penalty on not paying the taxes, but it doesn't cost you any money. And it's free to file an extension and will save you at least 25% on failure to file penalties. Check out the web today if you need help.
Dr. Friday 0:51
You can catch the Dr. Friday call-in show live every Saturday afternoon from 2 pm to 3 pm on 99.7 WTN.