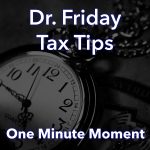 Dr. Friday 0:00
Good day. I'm Dr. Friday, President of Dr. Friday's Tax and Financial firm. To get more info go to www.drfriday.com. This is a one-minute moment.
Dr. Friday 0:12
I'm Dr. Friday. You probably hear me every Saturday at 2 pm here on the radio. I am an enrolled agent licensed by the Internal Revenue Service to do taxes and representation. That's what I do. I've been doing it for 20-plus years. If you're looking for someone here to help you get the IRS back online, maybe you just haven't gotten the same communication. Maybe you're getting a ton of love letters, or you're just looking to get straight. You haven't really received anything at all, but you know you haven't filed, and you need to get straight with the IRS. Now's the time to start getting on our calendar. Let's look at 2023 as a fresh new year. You might be surprised how easy it will be. Go to drfriday.com to set up your appointment.
Announcer 0:51
You can catch the Dr. Friday call-in show live every Saturday afternoon from 2 pm to 3 pm on 99.7 WTN.