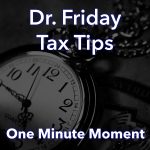 Dr. Friday 0:00
Good day. I'm Dr. Friday, president of Dr. Friday Tax and Financial firm. To get more info go to www.drfriday.com. This is a one minute moment.
Well, it's almost the end of 2019. I hope that all of you have had an awesome year I know I have and that this is the time for us to start planning for 2020. So enjoy yourself tonight and then get ready to start your tax papers tomorrow because 2020 is going to be an awesome year for all of you. But what we need to do first is have you go to my website drfriday.com and set up your tax appointment because my calendar is almost full and I don't want to miss out on any of you helping you do your taxes.
Again, that is drfriday.com and set up your appointment.
Announcer 0:50
You can catch the Dr. Friday Call-In Show live every Saturday afternoon from 2 pm to 3 pm right here on 99.7 WTN.