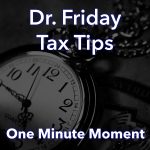 Dr. Friday 0:00
Good day. I'm Dr. Friday president of Dr. Friday's tax and financial firm. To get more info go to www.drfriday.com. This is a one-minute moment.
Dr. Friday 0:12
Tax season is flying by. So hopefully you have already filed all your business returns. If not, you had an extension file for them. And the same thing with W 2's and 1099's. Those forms were due back in January. If you haven't filed any of those, you really need to get a head start and get on top of it. So at least we can eliminate or at least reduce any penalties that might be coming in your direction. You need to call us today though at 615-367-0819. We can help you get your 1099's filed, get your bookkeeping caught up to date so you can file your taxes, and just help you get organized in your business.
Announcer 0:52
You can catch the Dr. Friday call-in show live every Saturday afternoon from 2 pm to 3 pm right here on 99.7 WTN.