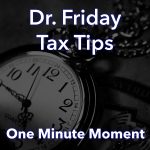 Dr. Friday 0:00
Good day. I'm Dr. Friday, President of Dr. Friday's Tax and Financial firm. To get more info go to www.drfriday.com. This is a one-minute moment.
Dr. Friday 0:12
Health savings account. I am a huge advocate for self employed, especially since some employers offered Health Savings Accounts HSA, and you can contribute up to 6850 for married couples, split it in half for a single individual. If you are over the age of 55, you can add another $500. This is a great way because if you don't use medical when you retire, you can use it for medical remember, this is pre-tax money. We're using our medical as well, as it will eventually become an IRA for your RMDs. So you know it's a great way to put more money aside for retirement. If you have questions, look us up on the web.
Announcer 0:51
You can catch the Dr. Friday call-in show live every Saturday afternoon from 2 pm to 3 pm on 99.7 WTN.