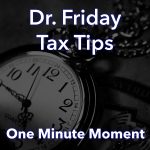 Dr. Friday 0:00
Good day. I'm Dr. Friday, President of Dr. Friday's Tax and Financial firm. To get more info go to www.drfriday.com. This is a one-minute moment.
Dr. Friday 0:12
Moving expense. Guys, it's no longer deduction since December 31, 2017, through January 1 of, 2026; it has been suspended. So that means if you have relocated even for work, it is not a tax deduction any longer. We get asked this quite often. So I just want to make sure you understand that employers may exclude the wages after 2018 reimbursing or payments on behalf of employees moving, but you cannot take it off on your taxes. You have questions about taxes, or you need help doing your tax return. Best way to do it is to go to the website drfriday.com.
Announcer 0:51
You can catch the Dr. Friday call-in show live every Saturday afternoon from 2 pm to 3 pm on 99.7 WTN.