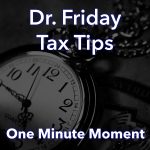 Dr. Friday 0:00
Good day. I'm Dr. Friday, President of Dr. Friday's Tax and Financial firm. To get more info go to www.drfriday.com. This is a one-minute moment.
Dr. Friday 0:12
How do you prepare for taxes? I mean, really. First thing, always has one place where you put all of the things that come in for you. Your mortgage interest statements, your 1095 A's if you're part of the marketplace, your W 2s, your stock 1099 Bs, 1099 Rs. Find one place where you can put it. My suggestion is also on the outside of that folder, have a checkoff list. Because throughout the year, things happen. We change, we get married, we lose jobs, and we sell things. Make a note of all of that because sometimes, as you get busy, you'll forget, and then you have to amend the tax return, and that is never fun.
Announcer 0:51
You can catch the Dr. Friday call-in show live every Saturday afternoon from 2 pm to 3 pm on 99.7 WTN.