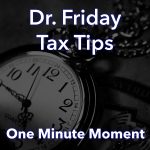 Dr. Friday 0:00
Good day. I'm Dr. Friday, President of Dr. Friday's Tax and Financial firm. To get more info go to www.drfriday.com. This is a one-minute moment.
Dr. Friday 0:12
And I want to put a big thank you out to all of you that have served or are serving this wonderful country. Happy Veterans Day. And, and to be honest with you, any of them as my nonprofit is Dr. Fridays foundation. If you're having tax problems and you have served under the government, you need to give us a call. We have the ability to actually help you for free if you need help with filing or getting out of tax debt. We have helped many veterans get back on their feet. And this is our way of thanking you for doing all the things that you've done for our country. So if you're a veteran and you need help, call us 615-367-0819
Announcer 0:51
You can catch the Dr. Friday call-in show live every Saturday afternoon from 2 pm to 3 pm on 99.7 WTN.