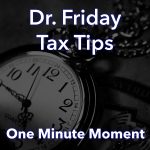 Dr. Friday 0:00
Good day. I'm Dr. Friday, president of Dr. Friday Tax and Financial Firm. To get more info go to www.drfriday.com. This is a one-minute moment.
Dr. Friday 0:12
And we are into the last month of this year. It is time to start really seriously thinking, do a rough run through on your taxes. Did you have a large sale? Did you sell some real estate? Did you do an investment? Did you do a 1031 exchange? Where do you stand? Have you done a conversion? Don't forget many of you on your 2020 took out like $100,000 from your IRAs or 401 Ks so you're going to have that other third because every year we'll have 1/3 of that you're going to have additional taxes. Putting the money in aside in a bank or making an estimated payment is the trick. Call me at 615-367-0819
Announcer 0:52
You can catch the Dr. Friday call-in show live every Saturday afternoon from 2 pm to 3 pm right here on 99.7 WTN.