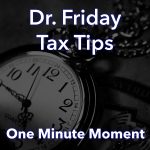 Dr. Friday 0:00
Good day. I'm Dr. Friday, President of Dr. Friday's Tax and Financial firm. To get more info go to www.drfriday.com. This is a one-minute moment.
Dr. Friday 0:12
Looking at your taxes, you prepare them, and you're like, "Wait, I owe a couple $100." One thing to think about is maybe you can put some money in an IRA. If it's a regular standard IRA. Remember, Roth IRAs are not going to help us; standard IRAs will reduce taxes. Now, I'm not going to tell you I am not a financial planner. This may not be a good financial planning situation. This is good tax advice. If you want to reduce your taxes, putting money into an IRA will be a way of you doing it. Putting more money in your pocket, less money in the pockets of the IRS. If you need help with tax planning, call me at 615-367-0819.
Announcer 0:51
You can catch the Dr. Friday call-in show live every Saturday afternoon from 2 pm to 3 pm on 99.7 WTN.