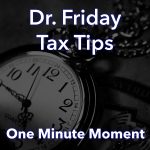 Dr. Friday 0:00
Good day. I'm Dr. Friday, President of Dr. Friday's Tax and Financial firm. To get more info go to www.drfriday.com. This is a one-minute moment.
Dr. Friday 0:13
If you have filed your taxes prepared your taxes and owed money to the IRS, it doesn't make a difference. If you're self-employed or if you're an employee working off a W-4 form, you need to make some adjustments. It's never good to owe the IRS; none of us like to have the IRS in our pockets. And it's worse when you have to pay almost 25% penalty and interest immediately, and it goes up from there. It almost doubles in the number of years three or four years you can end up starting at 2000 and owing four. Not a good plan. You need to make adjustments to your withholding; if you need help with that, you call our office at 615-367-0819.
Announcer 0:52
You can catch the Dr. Friday call-in show live every Saturday afternoon from 2 pm to 3 pm on 99.7 WTN.