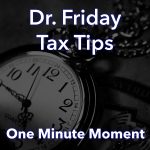 Dr. Friday 0:00
Good day. I'm Dr. Friday, President of Dr. Friday's Tax and Financial firm. To get more info go to www.drfriday.com. This is a one-minute moment.
Dr. Friday 0:12
And even though you don't hear a lot of tax law changes, they're constantly adding requirements enhancing credit and deduction. Back on the 29th of 2022, they came out with a new information about wages and apprenticeships. For a while, people would be able to work at a very minimal wage to basically try to learn a trade; therefore, their training was kind of less expensive because you were teaching them something. Well, they've come down the line that is enhanced the benefits for the person working, and kind of made it harder to use apprenticeship as a way of paying lower wages. If you need help, go to irs.gov.
Announcer 0:51
You can catch the Dr. Friday call-in show live every Saturday afternoon from 2 pm to 3 pm on 99.7 WTN.