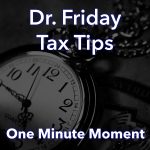 Dr. Friday 0:00
Good day. I'm Dr. Friday, President of Dr. Friday's Tax and Financial firm. To get more info go to www.drfriday.com. This is a one-minute moment.
Dr. Friday 0:12
When you're dealing with taxes, let's be honest, we have all, especially in the last few years, gone a bit crazy because we're not able to get resolution. Well, first, I'd like to give a thumbs up to the tax advocate service that we have here in Nashville. They are absolutely the most efficient service within the IRS. They are the only ones I've been able to do in the last couple of years to get resolution, but you can also use them. It's called the 911 Form. You can fill out and have them help you try to get resolution. So if you're trying to deal with the IRS, you have had no help, you can't reach anybody by the phone, look on the IRS website and click 911.
Announcer 0:51
You can catch the Dr. Friday call-in show live every Saturday afternoon from 2 pm to 3 pm on 99.7 WTN.