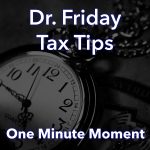 Dr. Friday 0:00
Good day. I'm Dr. Friday, President of Dr. Friday's Tax and Financial firm. To get more info go to www.drfriday.com. This is a one-minute moment.
Dr. Friday 0:13
Things to know about tax credits. First, we love tax credits because of tax credit subtracts the total amount from the taxes you owe. We talked about deductions in the past, they reduce your income, but credits reduced dollar for dollar from what you owe the IRS, so when you're doing your taxes, reviewing your information, make sure that you're not missing out on any tax credits that might be able to put more money in your pocket. If you're doing your own taxes or if you need help with taxes. The easiest thing to do is go to drfriday.com, click on 'schedule', and make an appointment today.
Announcer 0:51
You can catch the Dr. Friday call-in show live every Saturday afternoon from 2 pm to 3 pm on 99.7 WTN.