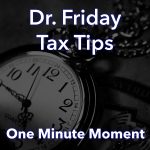 Dr. Friday 0:00
Good day. I'm Dr. Friday, President of Dr. Friday's Tax and Financial firm. To get more info go to www.drfriday.com. This is a one-minute moment.
Dr. Friday 0:12
If you haven't filed taxes in a number of years, if you know somebody or you've talked in the you know that maybe your children or your parents haven't been current with their taxes, now's the time to start thinking about it. It's the first of the year turnover that New Year's resolution. Let's file your back taxes because we can't make a deal or do anything with the IRS unless you comply. First step, file back taxes. If you haven't filed for 20 years, believe it or not, we probably don't file 20 years' worth of taxes. But if you don't know how to get started, I do, and I can help you. I'm local here, people. Just give me a call at 615-367-0819
Announcer 0:51
You can catch the Dr. Friday call-in show live every Saturday afternoon from 2 pm to 3 pm on 99.7 WTN.