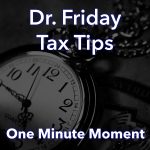 Dr. Friday 0:00
Good day. I'm Dr. Friday, President of Dr. Friday's Tax and Financial firm. To get more info go to www.drfriday.com. This is a one-minute moment.
Dr. Friday 0:12
A few things to know about deductions. Deductions can reduce the amount of a taxpayer's income before they calculate taxes owed. Most people take the standard deduction. The standard deduction is an adjustment due to inflation every year and adjusts so you will go up or down depending on how much it is. Remember, we like deductions. We love credits, but don't miss out on any deductions like the charitable deduction above the line from the standard deduction. So if you have questions, that's $300 single, $600 married. If you need help with taxes, book your appointment today at drfriday.com.
Announcer 0:51
You can catch the Dr. Friday call-in show live every Saturday afternoon from 2 pm to 3 pm on 99.7 WTN.