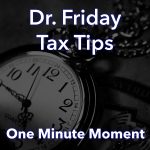 Dr. Friday 0:00
Good day. I'm Dr. Friday, president of Dr. Friday Tax and Financial Firm. To get more info go to www.drfriday.com. This is a one-minute moment.
Dr. Friday 0:12
I'm an Enrolled Agent licensed by the Internal Revenue Service to do taxes and representation which means now's the time. We're almost at the end of another year start the new year you can do 2022 without dealing with the IRS and all the love letters that come with it. If you need help or you know someone that needs help, all you have to do is pick it all at 615-367-0819. If you're not sure who Dr. Friday is go to my website, it's drfrday.com, or email that's sometimes the fastest and easiest way to get to me by my first name friday@drfriday.com.
Announcer 0:47
You can catch the Dr. Friday call-in show live every Saturday afternoon from 2 pm to 3 pm right here on 99.7 WTN.