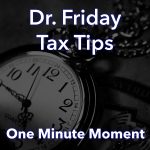 Dr. Friday 0:00
Good day. I'm Dr. Friday, president of Dr. Friday Tax and Financial Firm. To get more info go to www.drfriday.com. This is a one-minute moment.
Dr. Friday 0:12
For all employers that deferred their Social Security tax from 2020, remember on December 31, 2021, you have to pay 50% of what you deferred. That is going to be a penalty if you don't file it on time and it does have to be paid separately. It cannot be part of any of your other 941 payments if you use EFTPS there is a special category now on there that you can use to pay 50%. Remember we have to pay 50% on December 31, 2021, and then the other on 2022. If you need help, call us at 615-367-0819.
Announcer 0:51
You can catch the Dr. Friday call-in show live every Saturday afternoon from 2 pm to 3 pm right here on 99.7 WTN.