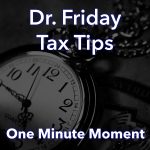 Dr. Friday 0:00
Good day. I'm Dr. Friday president of Dr. Friday's tax and financial firm. To get more info go to www.drfriday.com. This is a one minute moment.
Dr. Friday 0:12
I'm an enrolled agent licensed with the Internal Revenue Service to do taxes and representation. I do a radio show every Saturday at 2 pm right here on this station, and I talk about taxes 365 days a year. Sometimes 366 depending on the year and it's awesome. But if you need help, I understand taxes can be overwhelming. It can be a time when you basically just want to put your head in the sand and say "No if I don't say anything, the IRS won't catch me." It makes it a little difficult to buy a home, put your kids through college, or even just get back on your feet. If you need help doing this you need to start by calling us at 615-367-0819. We can help you with the IRS.
Announcer 0:52
You can catch the Dr. Friday call-in show live every Saturday afternoon from 2 pm to 3 pm right here on 99.7 WTN.