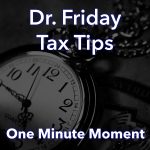 Dr. Friday 0:00
Good day. I'm Dr. Friday, President of Dr. Friday Tax and Financial firm. To get more info go to www.drfriday.com. This is a one minute moment.
Dr. Friday 0:12
I am a tax expert. I'm an enrolled agent. So when people come in and ask me, "Should I have an IRA or should I have a Roth? How should I invest?" I am not the right person that you're going to be talking to. All I can do when you're asking, "Should I convert from a standard IRA to a Roth? Should I put money in a Roth or an IRA?" To tell you how much today you can save or it will cost to do those. If you need to talk to someone about financial planning, don't make that your tax person. We are really good at instant gratification. Today, I can tell you put money in an IRA you'll save. If not, you won't save. That's what a tax expert does.
Announcer 0:51
You can catch the Dr. Friday call-in show live every Saturday afternoon from 2 pm to 3pm right here on 99.7 WTN.