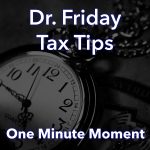 Dr. Friday 0:00
Good day. I'm Dr. Friday, President of Dr. Friday Tax and Financial firm. To get more info go to www.drfriday.com. This is a one minute moment.
Dr. Friday 0:12
Completing your taxes should be on the list of things to do people. It's not one of those things that's gonna fix itself. I know life isn't always easy. And I also understand sometimes people, you know, life gets in the way. But when it comes to tax preparation, sooner or later, you're going to have to deal with it. It's not something that's going to disappear. "Oh, well, if I don't file it this year, you know what, I'll just file again next year, or I'll wait until it's a good time for me." The IRS has a plan. It's that simple. They will eventually file a tax return on you and they're not going to give you any expenses. No, husband and wife and they're going to make you pay a lot more money.
Announcer 0:51
You can catch the Dr. Friday call-in show live every Saturday afternoon from 2 pm to 3pm right here on 99.7 WTN.