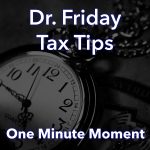 Dr. Friday 0:00
Good day. I'm Dr. Friday, President of Dr. Friday Tax and Financial firm. To get more info go to www.drfriday.com. This is a one-minute moment.
Dr. Friday 0:13
You're off the hook for fines if you pre-pay taxes or have additional withholdings, at least 90% of what your 2021 tax bill was, or 100% of what your 2020 taxes are. So the bottom line is if you want to always avoid maybe you had a big sale in 2021, maybe you had a big situation. Guess what? 2021 seems to be a big year for people to sell real estate which is going to make it interesting because we have to pay at least 100% of this year to eliminate penalties for next year which may be way overpaying your taxes
Announcer 0:51
You can catch the Dr. Friday call-in show live every Saturday afternoon from 2 pm to 3 pm right here on 99.7 WTN.