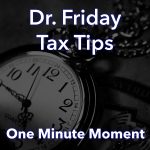 Dr. Friday 0:00
Good day. I'm Dr. Friday, President of Dr. Friday's Tax and Financial firm. To get more info go to www.drfriday.com. This is a one-minute moment.
Dr. Friday 0:12
IRS released the 2022 annual report highlighting more than 2550 investigations and a more than 90% conviction rate for people that have committed tax fraud, money laundering, and cyber crimes. Over $31 billion that they have received or at least they have found. I don't know if that's actually been paid, but they now have at least stopped them from doing this. This is what the IRS does, guys. So just think that not only the big fish that get caught so if you are a person that is not reporting all your income, that's tax fraud. If you need help, 615-367-0819.
Announcer 0:51
You can catch the Dr. Friday call-in show live every Saturday afternoon from 2 pm to 3 pm on 99.7 WTN.