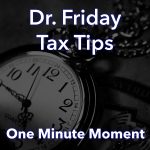 Dr. Friday 0:00
Good day. I'm Dr. Friday, president of Dr. Friday Tax and Financial Firm. To get more info go to www.drfriday.com. This is a one-minute moment.
Dr. Friday 0:12
And if you are operating or you're part of a nonprofit, listen up. The IRS is cutting down on people that are not filing 990s even this the 990-N which is basically a postcard. If you haven't filed that within three years you could not be or you may have lost your nonprofit status which means that your the work you've done everything you're trying to do, now you're turning yourself into a for-profit business. And they are doing this. They are making people pay taxes on nonprofits because you're not living up to the expectations. If you need help to make sure your nonprofit is in good standing. Call me 615-367-0819
Announcer 0:51
You can catch the Dr. Friday call-in show live every Saturday afternoon from 2 pm to 3 pm right here on 99.7 WTN.