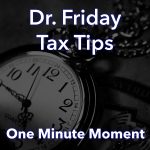 Dr. Friday 0:00
Good day. I'm Dr. Friday, president of Dr. Friday Tax and Financial Firm. To get more info go to www.drfriday.com. This is a one-minute moment.
Dr. Friday 0:12
I'm an Enrolled Agent licensed by the Internal Revenue Service to do your taxes and representation, guys. That's all I really do. So if you're having trouble or you're getting love letters from the state or the IRS, this is the person you want to call, Dr. Friday, me. Because that way I can help you not only get control of the situation but let's make an end let's find a way to stop all of the bleedings. Let's figure out a way for you to actually get out of tax debt and be able to then go back, buy a house, put your kids through college, stop those sleepless nights and be able to figure out what can you do to change and the money back in your pocket. All you have to do is call me at 615-367-0819.
Dr. Friday 0:47
You can catch the Dr. Friday call-in show live every Saturday afternoon from 2 pm to 3 pm right here on 99.7 WTN.