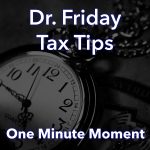 Dr. Friday 0:00
Good day. I'm Dr. Friday, president of Dr. Friday Tax and Financial Firm. To get more info go to DrFriday.com. This is a one-minute moment.
Dr. Friday 0:12
What should you know about qualified and nonqualified retirement plans? A, let me put a caveat. I am not a financial planner. But by choosing if it's qualified or nonqualified, could make the difference between what is taxable at Capital Gains rates and what is taxed at ordinary income tax rates. That is when you want to basically be sitting down not only with your financial planner, but also include your tax person in some of those conversations. Because sometimes it could sound great that you're making all of this money. But if it's coming to you at a higher tax bracket, then maybe is not as much money as you think. if you need help, call me at 615-367-0819.
Announcer 0:51
You can catch the Dr. Friday call-in show live every Saturday afternoon from 2 pm to 3 pm right here on 99.7 WTN.