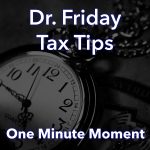 Dr. Friday 0:00
Good day. I'm Dr. Friday, president of Dr. Friday Tax and Financial Firm. To get more info go to DrFriday.com. This is a one-minute moment.
Dr. Friday 0:12
And for any of you that have applied for PPP 2 which is the Payroll Protection Plan, if you haven't already, you need to make sure you have filed for forgiveness. It's very important going from getting the money and basically being able to get it forgiven to being a loan is huge. I don't care Unless Unless you don't do this and you applied for it under they denied it. I would fight for forgiveness. This is money that you were able to use to keep employees or yourself alive during the COVID and you want to make sure that you're not going to end up putting your business or finance at risk. Call me at 615-367-0819.
Announcer 0:49
You can catch the Dr. Friday call-in show live every Saturday afternoon from 2 pm to 3 pm right here on 99.7 WTN.