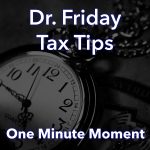 Dr. Friday 0:00
Good day. I'm Dr. Friday, president of Dr. Friday Tax and Financial Firm. To get more info go to DrFriday.com. This is a one-minute moment.
Dr. Friday 0:12
And I talk to a lot of clients about what's called a 1031 Exchange or Like-Kind Exchange. I will tell you at the time that I'm recording this moment, this could be gone by the first of 2022. But at this moment, as of 2021, 1031 Exchanges still exist. And if you have the ability to invest money that you haven't had to pay taxes on, it's like growing it in an IRA, it's a no-brainer. If you want to stay in real estate or whatever type of investments you're dealing with, then I'm always a firm believer, 1031 exchange is a direction to go. If you need help, call 615-367-0819.
Announcer 0:51
You can catch the Dr. Friday call-in show live every Saturday afternoon from 2 pm to 3 pm right here on 99.7 WTN.