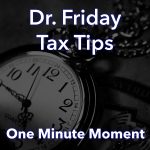 Dr. Friday 0:00
Good day. I'm Dr. Friday, president of Dr. Friday Tax and Financial Firm. To get more info go to DrFriday.com. This is a one-minute moment.
Dr. Friday 0:12
What should you know about investing from a tax standpoint? One we've already covered. Make sure you hold your investment over one year, but also maybe invest in a small business. Because we all know that back in 2015, they actually have a new tax law that allows you if you invest in a small business and you hold that for at least five years, you could be excluded from the capital gains tax on that 100% exclusion. So maybe helping a small company investing in it in the right way, making sure it's set up properly that their stocks survive, but there is a way that you can get your money back and pay zero tax.
Announcer 0:51
You can catch the Dr. Friday call-in show live every Saturday afternoon from 2 pm to 3 pm right here on 99.7 WTN.