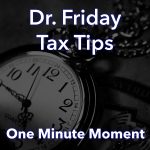 Dr. Friday 0:00
Good day. I'm Dr. Friday, president of Dr. Friday Tax and Financial Firm. To get more info, go to www.drfriday.com. This is a one minute moment.
Maybe you started to receive Social Security this year, and you're wondering, is Social Security taxable? Because you've always been told, "Hey, I don't have to worry about Social Security." Yeah, not the total story. So if you worked maybe and then part of the year and then maybe you start collecting Social Security, or you have other income, your spouse works and you started to return, Social Security will be taxed up to 85% of what you receive. So make sure you're not surprised because I will tell you I can think of two cases that happened last year in my office where they filed and forgot Social Security, and that can be quite a kick in the bottom there.
So if you have questions, 615-367-0819.
Announcer 0:47
You can catch the Dr. Friday Call-In Show live every Saturday afternoon from 2 pm to 3 pm right here on 99.7 WTN.