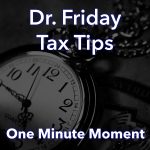 Dr. Friday 0:00
Good day. I'm Dr. Friday, president of Dr. Friday Tax and Financial Firm. To get more info go to www.drfriday.com. This is a one minute moment.
Dr. Friday 0:12
Is there a homebuyer's credit? No longer. In 2007 there was one and we had to pay back $500 every year and then in 2008 they gave another one that was not paid back. But at this time there is no federal on your tax return homebuyers credit. It doesn't mean that it's not a great investment, but it's important to make sure you understand when you're figuring out your tax bill. Because nowadays with the higher standard deduction sometimes buying a house may have zero effect on your taxes. Often they sell you home thinking that you're going to save tax dollars when you buy it. If you've got questions call me at 615-367-0819.
Announcer 0:52
You can catch the Dr. Friday call in show live every Saturday afternoon from two to 3pm right here on 99.7 WTN.