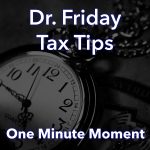 Dr. Friday 0:00
Good day. I'm Dr. Friday, President of Dr. Friday's Tax and Financial firm. To get more info go to www.drfriday.com. This is a one-minute moment.
Dr. Friday 0:12
And if you're thinking now would be a great time to make an appointment with Dr. Friday to get started with her services, you're 100% correct. Right now it's a little quiet. We're not quite into the new season. So if you're thinking about using our service or wanting to get on the list, because you all know that basically come January, I'll be booked up for all the way through April. It's just the way it is. I'm very, very lucky that way. But if you want to get on our list or you need help getting organized or getting your taxes started, you need to call us today at 615-367-0819 or email friday@drfriday.com. Check me out on the web at drfriday.com.
Announcer 0:51
You can catch the Dr. Friday call-in show live every Saturday afternoon from 2 pm to 3 pm on 99.7 WTN.