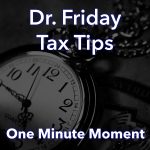 Dr. Friday 0:00
Good day. I'm Dr. Friday, President of Dr. Friday's Tax and Financial firm. To get more info go to www.drfriday.com. This is a one-minute moment.
Dr. Friday 0:11
Misclassified workers remain a priority for the IRS. They now have their own division within the IRS trying to identify misclassified isn't is firms are trying to circumvent payroll taxes. They're treating them as an independent contractor which means that they are not getting the payroll tax that they would if you're an employer's have to pay tax employees pay tax when you're self-employed only the self-employed pay one half of that tax. It's a great way if you're truly self-employed to put more money in your pocket. But if you're caught the penalties will not be worth the amount of money you have saved. Call me at 615-367-0819.
Announcer 0:48
You can catch the Dr. Friday call-in show live every Saturday afternoon from 2 pm to 3 pm on 99.7 WTN.